Tyler Tank Tankersley is the Cullman Today 'Person of the Day'

Every Cullman County resident can have his or her Day of Fame and Fun with Cullman Today's 'Person of the Day' spotlight:
The Basics
Name: Tyler Tankersley
Nickname: Tank
Age: 20
Stats: 6′ 4″ tall – 190 lbs
Lives In: Hanceville, AL
Graduated: Hanceville High School – 2012
Attending: Wallace State College Degree: Welding  – 2 year associates degree
Career: Tyler Tank Tankersley
Career Goal: Welding foreman at a large rail road company, preferably CX.
Currently Works At: T & T Motors – Cullman – Car Salesman (January through March)
S & Q Lawn Care – Cullman – Foreman of Landscaping Crews (April through November)
Life Highlights to this Point: Tyler Tank Tankersley
Wearing #80, Tyler Tank Tankersley helped take the Hanceville Bulldogs football team to the State of Alabama 3A Football playoffs in 2010 and 2011. Tank played Tight End, Wide Receiver and Defensive End for those teams. You can watch Tank force Deshler High's punter to eat the ball: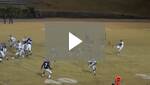 He also played forward/center on Hanceville High School 3A playoff basketball team. He wore #4 and was ranked as the #247 rated prospect in the State of Alabama.
This multi-sport phenom also successfully ran the 800 meters and 4 x 800 meter relay for Hanceville High School Track team.
PERSONAL: Tyler Tank Tankersley
Strongest Attribute: Athletics
Needs To Work On: Welding Skills
Favorite Restaurant: BuenaVista Mexican Restaurant
Favorite Food: Chocolate
Status: In A Relationship
Unknown/Hidden/Random: Rocking Out to Taylor Swift 
Cullman Specific
How He Is Helping Out The Citizens of Cullman: "Doing whatever the people need me to do."
Final Advice for Cullman County Residents:
Want to interact with Tyler Tank Tankersley? Find him on Facebook!
Want to be a Cullman Today 'Person of the Day'? Submit yourself, or one of your friends or family members. Who knows … you may become famous for real!?!
The Editorial Desk at Cullman Today is the last stop for a news story's long journey from inspiration to publication.

The main function of the Editorial Desk is to insure the precision and factual accuracy of either complex stories and/or those containing specific numeric data that must be verified and tested.
Latest posts by the Editorial Desk at Cullman Today (see all)